Co-operatives always start with needs that people recognise as being best solved through working together than on their own.
That might be to stop their local pub closing, or to provide social care, or to buy goods in bulk and get a discount. If you have this, then there's plenty of help available to get a co-operative started.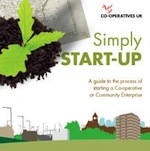 Co-operatives UK have lots of info on their site to help start a co-op, with general guides covering the basics, to more detailed advice on how to structure your co-op, how to do the finances and how to run yourself effectively. Everything you need to move your co-op from being just an idea to a fully-formed plan for getting started and running yourself is there, and Co-operatives UK also provide legal support to get going, and ongoing advice to their members.
If you want some help starting a co-op get in touch with our partners at London Co-op Development who will link you with a Co-operative Development Advisor that can help you.
Or browse through the collection of resources we've gathered right here on this site:
[child-pages]