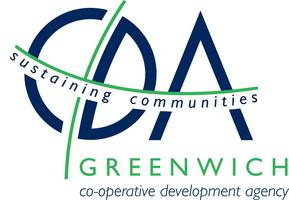 Greenwich CDA are organising an event 'Exploring co-op models for financial sustainability & thriving communities', supported by Co-operatives London.
Thursday, 13 February 2014 from 10:00 to 16:30
Greenwich, United Kingdom | Greenwich Digital Enterprise Centre
There will be the chance to hear from co-operatives to inspire and demonstrate how these models work here and now, explaining who they are, what they do, how they do it do it and why – how being a co-op or social enterprise has benefits to the organisation.
Why should you come along?
Get informed about legal structures and models for social businesses & co-ops
Hear from successful local business
Network with like-minded local people and businesses
Book a free slot with our co-operatives expert to find out if a co-op would work for your business
Find out about funding for Co-ops- curated by Coops London
Agenda
10am Registration opens and refreshments
10.30am Welcome & Event opening
10.35am Councillor welcome
10.50am Keynote
11.05am Co-operatives and local people – Claire Pritchard GCDA
11.20am Break for tea /coffee
11.40am 4 Live Co-operative case studies from active local co-ops- 4 x 10 mins
12.20pm Questions for the speakers
12.30am Summary of the morning of & description of groups to elect to join for the afternoon sessions
12.45pm-1.45pm Lunch and networking
1.45pm- Welcome back and breakout group organisation
1.50pm What are the gaps and opportunities within your theme/area of work?
2.35pm Feedback from each of the groups
2.55pm Tea break
3.15pm Meet the funders session from Co-ops London
3.45pm Co-operative Party tbc
Summary of the day, next steps, offer of free 30 mins consultation with a GCDA Co-ops expert & thanks
4.00pm Networking
End- 4.30pm